Bettis Banks 100k At RFDTV's The American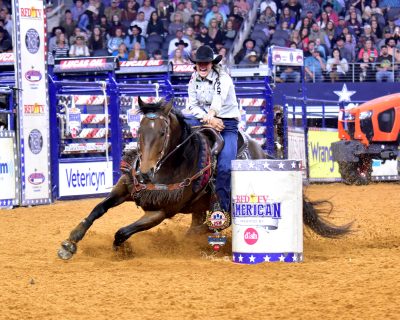 Taci Bettis isn't a stranger to the winners circle, but after her stellar showing in 2017, some might say that winning RFDTV's The American takes the cake. The 2017 WPRA Rookie Of The Year has started off 2018 with a serious bang.
"At the end of 2017 I sat down, and replayed the whole year in my head," Taci explained when asked about her RFDTV The American experience, "A dream had come true for me that year. I didn't ever think anything, ever, could top 2017. So to start the year with a fabulous winter, and to go to AT&T Stadium and get that chance to walk out with a life changing win, you stop and wonder if this is really happening, if it's really for real. God is still opening doors for me and Smash, and every single day I replay everything in my head, and I am so thankful for it—because at any given minute it could be gone."
Bettis doesn't hesitate to credit her success with the village that keeps her going, claiming that her family and husband make it possible for her to go down the road.