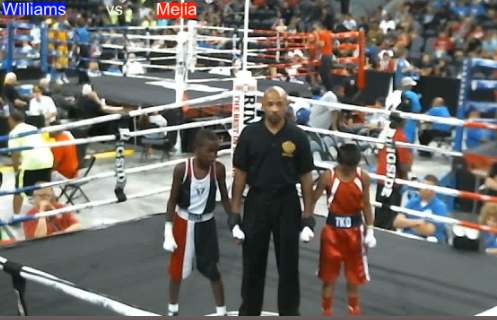 Boxing
One of the biggest challenges a manager faces is providing exposure for his fighters. The chances of a low ranked fighter being seen by promoters on cable TV is slim to none. Boxing has always needed a broadcasting network that can feature young and inexperienced fighters. WatchmeSports is that network. By providing boxing clubs a low cost production and streaming solution, small boxing tournaments can be streamed live using PhoneStream for the low monthly subscription cost of $9 per month or a full fledged video production solution using QuickStream9 for as little as $30 per month.
Every single match can be streamed live to WatchmeSports where thousands can watch as part of their viewing subscription.
Streaming a boxing match is a simple matter. Whether you're using a phone or a webcam, simply strap a monopod to one corner of the boxing ring.
While a simple one camera solution works great, sometimes you want to put on a better show. With QuickStream9 you can have up to 3 webcams placed at different angles giving the operator the ability to switch easily and quickly between camera views. With QuickStream9 you can post contestant names, scores, rounds, standings and run ads. With QuickPay9 and QuickStream9 you can run your whole tournament while streaming every single match.